Sunday 4 June – 9:00 to 18:00 CEST
Monday 5 June – 9:00 to 17:00 CEST
Where: Room 6 (Stolz 1)
Programme
Sunday 4 June
| Time | Activity |
| --- | --- |
| 9:00 - 9:30 CEST | Welcome and coffee |
| 9:30 - 10:30 CEST | Introduction to the theme |
| 10:30 - 11:00 CEST | Project and team discovery |
| 11:00 - 18:00 CEST | Hacking all day |
| Time | Activity |
| --- | --- |
| 9:00 - 9:30 CEST | Welcome and coffee |
| 09:30 - 13:00 CEST | Hacking and preparation of presentations |
| 13:00 - 13:15 CEST | CODE FREEZE: Participants receive final presentation criteria |
| 13:15 - 15:00 CEST | Time for working and practicing presentations |
| 15:00 - 16:30 CEST | Presentations to the Judging Panel |
| 16:30 - 17:00 CEST | Announcement of the winners and prizes* |
Registration
A separate registration is required to participate in this activity. Spaces are limited so hurry up and register now!
| Registration | Fee |
| --- | --- |
| Student | 25 EUR |
| Regular | 50 EUR |
Theme: Natural Language Processing (NLP)
NLP is the theme of this year's EAGE Annual Hackathon organized by the EAGE A.I. Committee.
This exciting event will bring together geoscience professionals and NLP experts to collaborate and develop innovative solutions for the industry.
Whether you are a geoscience professional looking to learn about NLP or an NLP expert looking to apply your skills to a new field, this is an opportunity to learn from experts, network with peers, and showcase your skills.
The event will provide an opportunity to work on real-world challenges and use-cases in geoscience. Don't miss this chance to be part of shaping the future of geoscience and NLP. Register now!
P.S. This message was generated by a NLP AI system.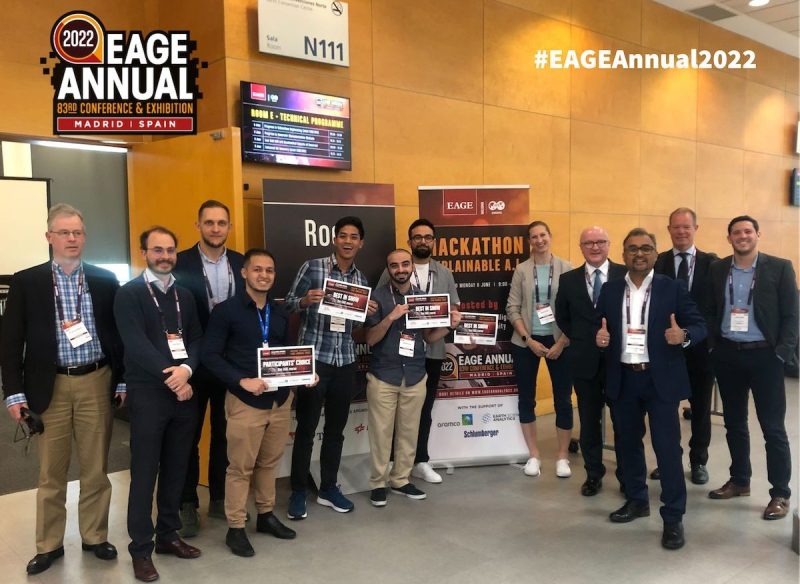 This activity is organized with the support of:
Are you interested in supporting this activity? Check out the sponsoring opportunities on this page.
About the EAGE A.I. Committee
The EAGE A.I. Committee is a team of EAGE members and volunteers who endeavour to share knowledge and create new connections in the digital transformation that are relevant for geoscientists. In addition to regular contributions to EAGE conferences and workshops, they curate a periodical newsletter on all things A.I., machine learning and digitalization, as well as interviews with experts and other initiatives for the community. You are welcome to join the EAGE Artificial Intelligence group on LinkedIn to receive updates on all future opportunities to get involved.