During the days surrounding the conference & exhibition, we offer you the opportunity to join one of our exciting, informative and enjoyable field trips.
Keep an eye on this page for more details!
Geothermal potential of the Madrid Basin
10 June 2022
The Cenozoic Madrid Basin contains a continental detrital sedimentary infilling over 3,500 m thick, and measured water temperatures reach 120ºC. The basement is composed of igneous and metamorphic rocks with different content of radiogenic elements. The trip includes outcrops to show basin infilling, basement rocks, aeromagnetic and radiometric data, as well as geothermal flow and heat production rates. Reserves and potential use from geological and thermal 3D modelling will be discussed.
Field Trip leaders:
Alfonso Muñoz Martín (Complutense University of Madrid)
Antonio Jose Olaiz Campos (Repsol)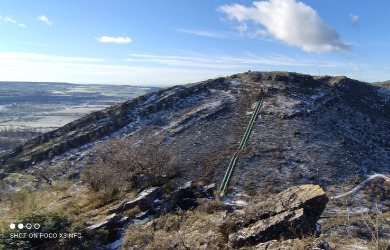 Site Visit to Las Loras UNESCO Global
5 June 2022 | Geopark (Burgos/Palencia)-2 Day fieldtrip
Located in the southern end of the Basque-Cantabrian Basin, in the northern part of the Burgos and Palencia provinces, some 350 km from Madrid (3.5 hours by highway). It includes numerous geological sites, but also the shut-in Ayoluengo oil field and the only Spain's Oil Museum, located in Sargentes de la Lora (Burgos). Outstanding outcrops of Mesozoic age rocks, including all the elements of the Ayoluengo petroleum system (source rock, reservoir). This region was pioneered in the exploration and production in Spain, from oil seeps and tar mining during the 19th century, including the first exploration well drilled in Spain in 1900 up to the discovery of the only oil field onshore in Spain in 1964. Together with the geological heritage, the territory includes the largest concentration of Romanesque churches than anywhere in Europe, hermitages carved on Cretaceous multi-colored sandstones and abundant Neolithic burial mounds and dolmens. 

Day one: Travel by bus from Madrid to the Geopark. Field trip introduction. Visit several outcrops and other elements of the Natural and Cultural heritage of la Loras UGGp (asphaltic sandstones in Basconcillos del Tozo, Mundilla Outcrop (Middle Cretaceous), La Lorilla viewpoint, Rebolledo de la Torre Romanesque church and georoute, Jurasic serie in Becerril del Carpio and Olleros de Pisuerga hermitage in the Utrillas Facies sandstones. Dinner and one night hotel in Convento de Mave (Palencia). 

Day two: Visit Basconcillos de Tozo Georoute and outcrops in the Ayoulengo field, Oil Museum and dolmen in Sargentes de la Lora (Burgos). Lunch and return to Madrid by bus.The aim of this itinerary is to get to know some of the places of interest in the Geopark, both in terms of its geological and cultural heritage, while also enjoying its unique landscapes along the way.
Field Trip leaders:
Karmah Salman (Las Loras UGGp)
José Ángel Sánchez (Las Loras UGGp)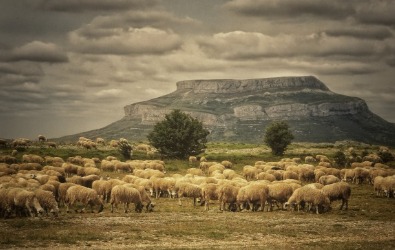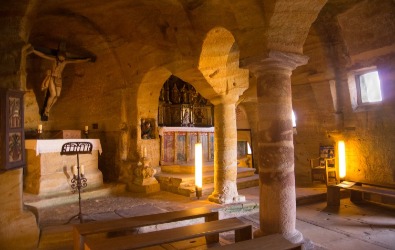 Molina-Alto Tajo Global UNESCO Geopark
10 June 2022 | (Guadalajara province)
Located in the Iberian Range, some 200 km from Madrid (2 hours by highway). Mesozoic materials make up the biggest part of the geology of this Geopark, although some Paleozoic rocks are also outcropping. Mesozoic materials are mainly represented by a succession of Triassic siliciclastic and Jurassic and Cretaceous carbonates. The Geopark is characterized by a high geological heritage, a remarkable geodiversity, highlighting the presence of important stratigraphic series of great continuity.
It is outstanding the prominent tectonic features and geomorphologic variety present throughout the area, including also very fossiliferous levels of different ages. There are several impressive viewpoints of easy access which allow to observe the spectacular scenery. Another outstanding geological feature is the presence of rich levels of minerals, such as 'Jacinto de Compostela' (red ferruginous quartz) and Aragonite pseudohexagonal crystals, as can be seen in the Geopark logo.
Aragonite, a polymorph of calcium carbonate, is precisely named after the village of Molina de Aragón (Guadalajara), where this mineral was first described. Furthermore, the exceptional Lower – Middle Jurassic outcrops resulted in its designation by the International Commission on Stratigraphy as the Global Boundary Stratotype Section and Point (GSSP) for the base of the Aalenian (174.1 Ma), i.e., the boundary between the Lower and Middle Jurassic.
The trip will cross two of the main fluvial canyons of the Geopark, one on Triassic sandstones and the other on carbonate rocks, with spectacular views of the landscape and the tectonic structures that make up the territory.Departure from Madrid by bus to the Geopark (2 hours). Visit outcrops from Triassic age to Cretaceous. Lunch at the Geopark and return to Madrid.
Field Trip leaders:
Luis Carcavilla Urquí (Spanish Geological Survey IGME-CSIC)
Enrique Díaz Martínez (Spanish Geological Survey IGME-CSIC)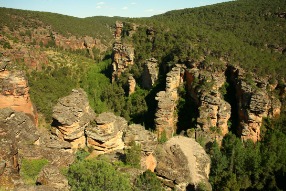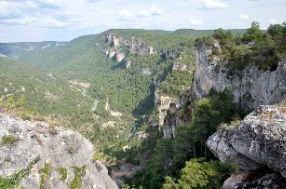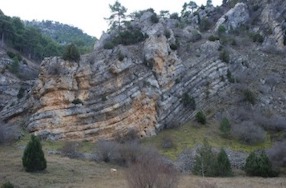 Site Visit to Underground Gas Storage
6 June 2022 | (UGS) at Yela (Guadalajara)
Yela Underground Gas Storage (UGS from now) is located in the municipality of Brihuega, Guadalajara province, 100 km far from Madrid. Enagás , the Spanish main TSO (Transmission System Operator), operates the facilities.It is a deep aquifer converted into UGS in 2012 after more than 10 years of exploration and investigation in the center of Spain.It is an anticline with two tops. The reservoir is a dolomite formation from Upper Cretaceous at 2.300 depth and the seal is compound of anhydrites from the upper Cretaceous.It has a working gas capacity of 1bcm.
Field Trip leader: 
Rosa M Nieto Prieto (Enagás Transporte SAU)